Two more competitions of 2020 winter season complete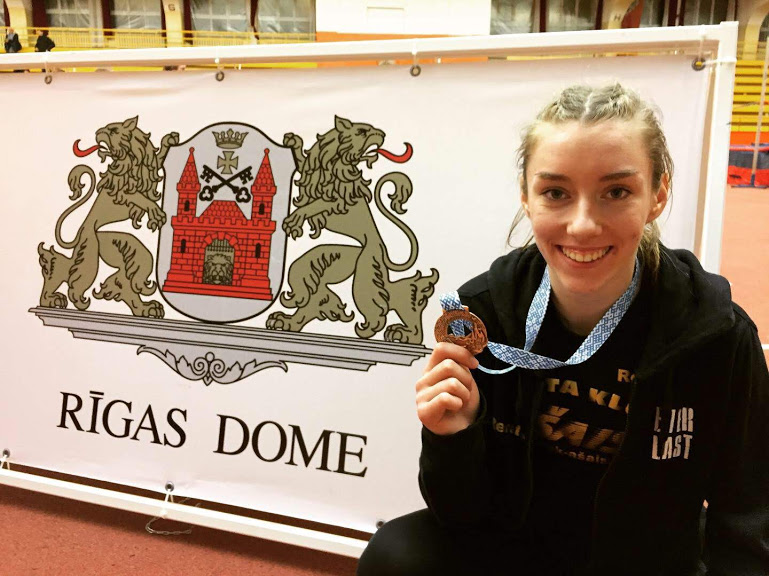 The winter season of 2020 is in full throttle! The youngest of SC Ašais members on the 19th of February tested their limits in Valkas sports schools' organized athletics indoor biathlon. Roberts Cercins 2nd (1 point to 1st place!!!). Stella Paltiņa also second amongst U14 girls. It is also her first time running under 1:50 in 600m (1:49,6)! However the older runners of club started in Rīgas U18 championship. On the first race day Renāte Beļājeva got bronze in the 400m sprint with a new PB and a new club record for girls in this distance. On the second race day Renāte 5th in 200m almost qualifying for final runs. With a new kind of speed - II sports class spped in 800m - Roberts Glazers got 5th place and set a new PB with very tough competitors. Next up - Elza Niklase. On the weekend she will be competing in U16 championship! Some photos - here!
Roberts Glazers gets bronze in his first U18 championship!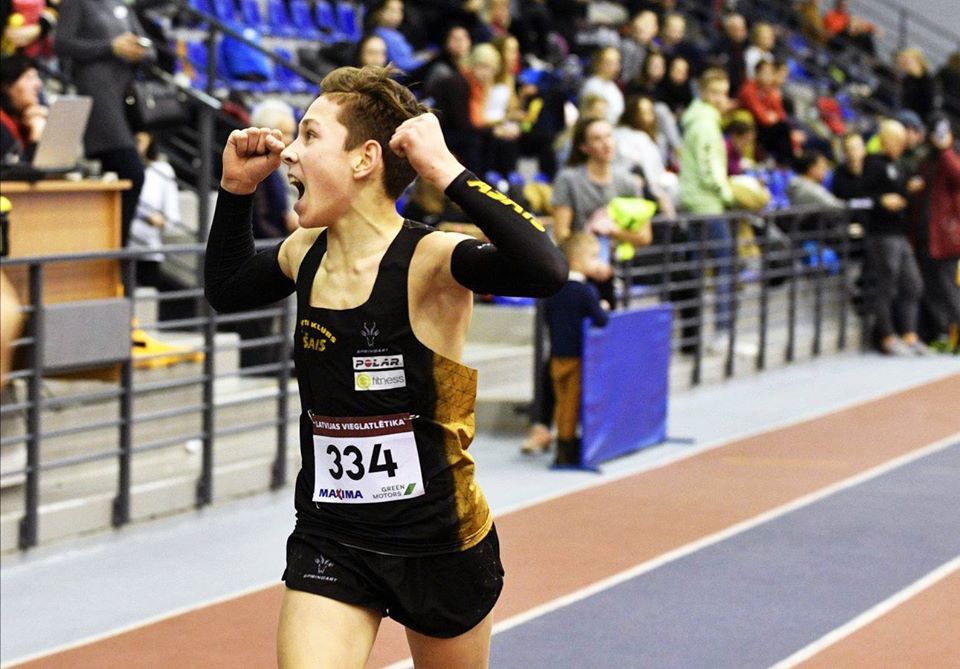 February is the time of championships here and champioinships there! Great news from Latvias' U18 championship in Kuldīga. Now Roberts, in addition to Stellas' Paltiņas' bronze in LV championship, has gotten a bronze in the 1500m distance. He also maneged to improve his Pb by two seconds! Maybe not as hoped for, nonetheless with honor, started Renāte Beļājevain her first U18 championship. From 30 competitors in the long sprint race, Renāte got 6th place in the 300m distance, setting a new PB and a new club record! Both had to compete as the youngest runners in their respective age group, which means they competed with 1 year older athletes. A few photos - here!
Artis Rožkalns runa a new PB and club record in 600m!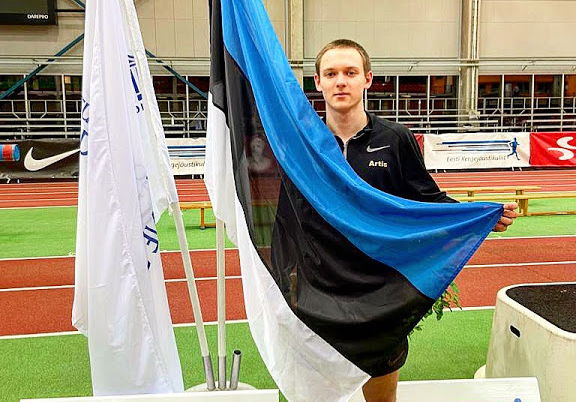 In the evening of February 4th, Artis set off to our beloved Estonia, where in Tartu manēža for the 8th time occured the traditional Martin Kutmani competition in athletics. In a very tough competition with ahletes from Estonia, Lithuania, Ukraine and Byelorussia, Artis got 6th placewith a new PB and club record in 600m - 1:24,93! Need to menntion, that the result of the winner was 1:18,97! After this competition, Artis' result indoors is third best in U23 age group and 4th best amongst mens' rating. Slowly approaching is Latvian championship indoors. There the most desired goal will be breaking the 2 minute mark in 800m. There is some time left to train. It will be fun!
Youngest Ašais runner steps on country's most important pedestal in her first championship!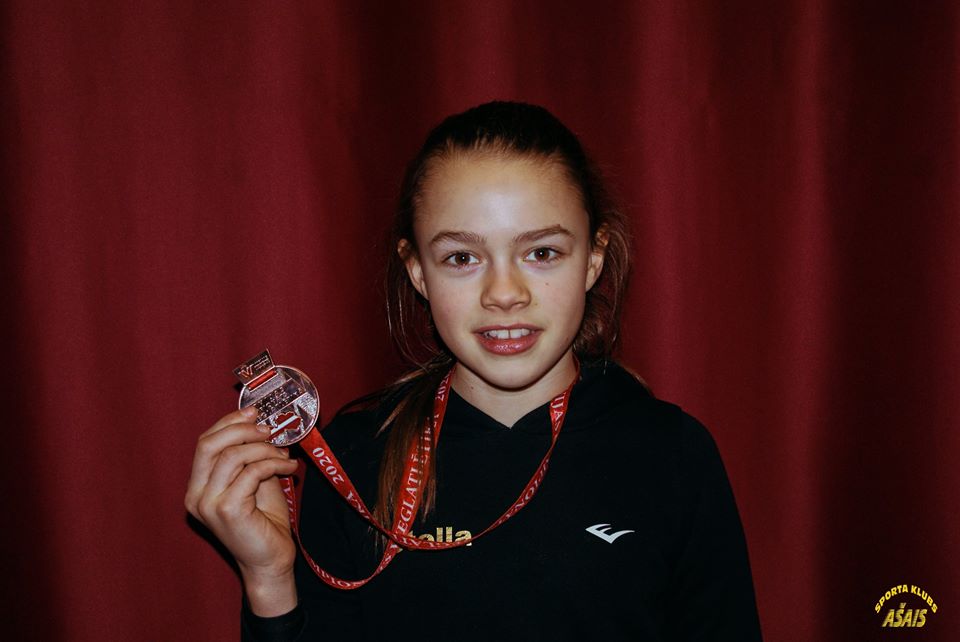 The crazy month of February is here! For others maybe it is not that crazy, but for Ašais it definitely is. It is the time of Latvian championships! Isn't it amazing that the month of championships has started with something this amazing?!? In the elderly Rīgas manege occured the U14 Latvian championship. We are truly happy, that our young lady Stella Paltiņa in her first Latvian championship ever stepped on the country's most important athletics pedestal, getting 3rd place with a new PB overall! Also Stella was only 0,16 seconds behind 2nd place! furthermore, she was a year younger than her competitors!!! Unfortunately, psychology got the best of our second U14 athlete Roberts Cercins. Psychology got him ruthlessly...Experience. Next on the queens' stage will set off U18 age groups' runners Roberts Glazers and Renāte Beļājeva! Photos - here!
Ašais athletes starting to pick up pace in Tartu chaotic competition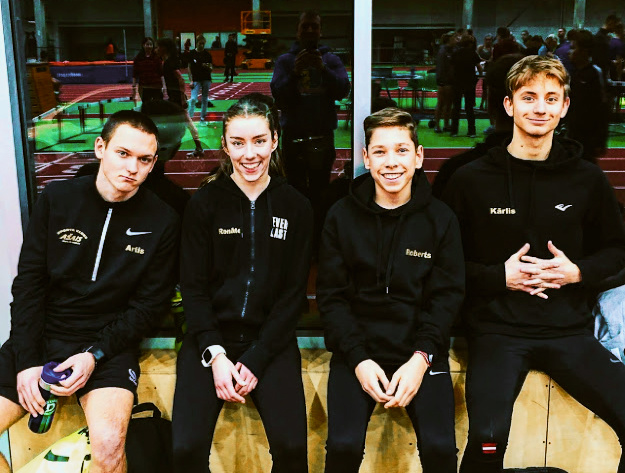 The last race of 2019 occured in the Estonian city of Tartu. The track is excellent, but such weak organizing we had not experienced. Chaos in logistics. How can there be a situation where the start for 11 year old girls is 3 HOURS late?!?! The 800m race started at 21:50... But now the athletics part. On the first race day Stella Paltiņa and Roberts Cercins started in sprints. Both had the 200m sprint. On the second race day (night) Renāte Beļājeva set a new PR and got silver in 800m! Somewhat of a risky maneuver was made with Roberts Glazers, who set off shortly after recovering from being sick. Roberts got 3rd place, but how he himself admitted - no freshness.
We continue celebrating. Cesis sport laureate 2019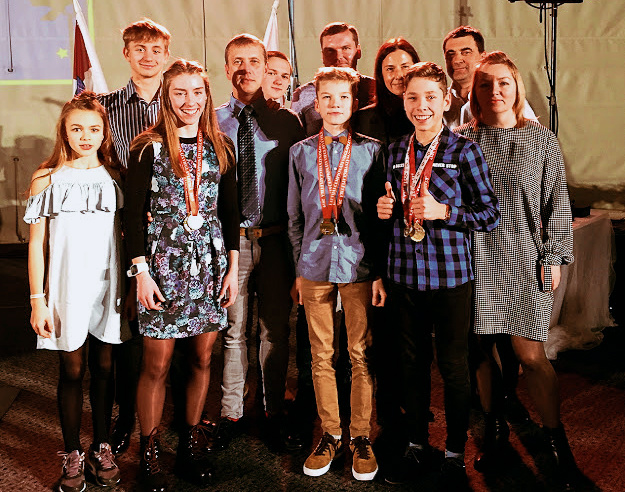 December, as usual is the month of festivities and looking back on the past year. Also the month of SC Ašais birthday - 11 years! This time we combined clubs' birthday with the Cesis sport laureate. For the first time Cesis city sports schools' laureate was combined with Cesis region sports
laureate. That is why there was a very big ball. The quality of the event is disputable> There were many mistakes, but overall it was a positive event. This year amongst the laureates were Ričards Špacs (Latvian U14 champion indoors and silver outdoors in 1000m), Renāte Beļājeva (Latvian U16 champion 600m indoors, silver in 800m outdoors), Rihards Serģis (bronze in 5000m in the U23 age group) and Roberts Glazers (bronze in the Baltic Sea state games). Festivities will continue on 20th of december, when Amatas region sports laureate will occur.

Renāte wins both gold and silver in Klaipėda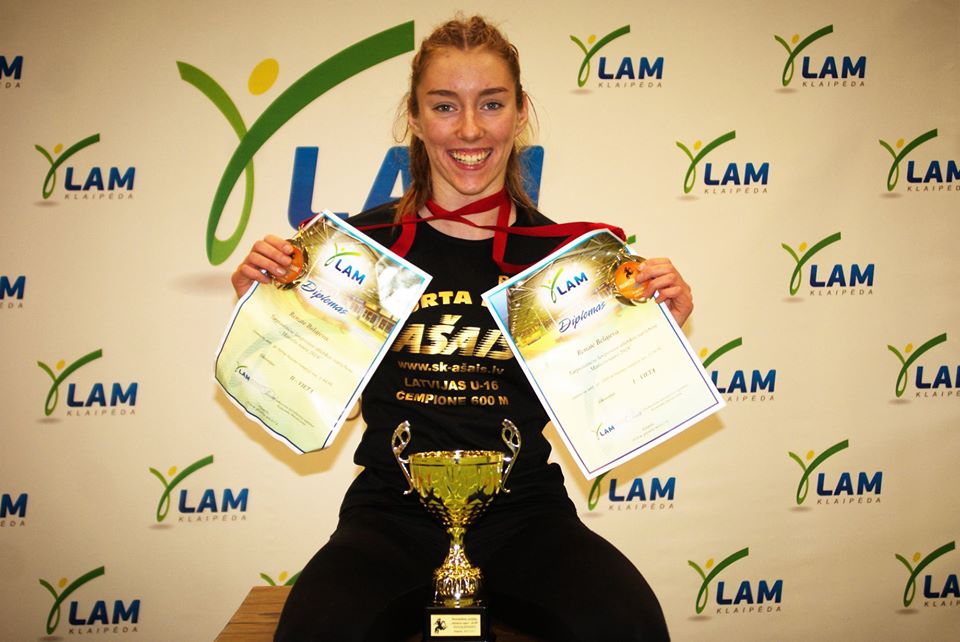 2019 is rapidly coming to a close, and in this period of time between two athletic cycles, Ašais runners once again visited the Lithuanian city Klaipėda, in which occured the international competition - Maniežos Taure 2019. In this race participated U16 & U18 athletes from Lithuania, Latvia and Russia. An excellent participation went down for Renāte Beļājeva, who won in the 1000m distance and set a new PB, and finished only 0.14 slower than the first place in the 600m distance. Knowing Renātes' accelerative abilities, only God know, how it would've went down if they both had been in the same heat. Till the end there was hope, that Roberts Glazers would set off in the track, but we decided to "save" Roberts for the future and not risk him getting sick. Sore throat... With this, club has won 116 medals in the year 2019! Will be run to 120? Results - here! A few photos - here!
Starting the indoor season with 4 medals in Vidzemes competition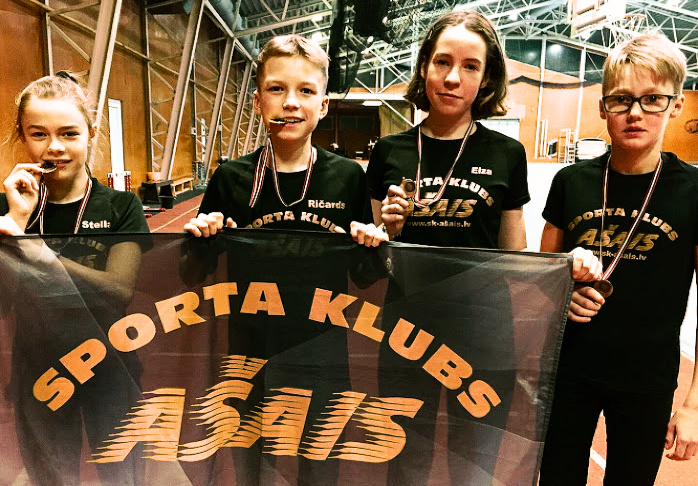 As fast as a lightning bolt reaches the surface of the earth the indoor has once again arrived. Traditionally, the end of the year is the time when a competition occurs in Limbažu olympic center for Vidzemes region, Ogres and Ādažu athletes (for U14 and U16 age groups). This was the first competition in the new age groups, respectively Stella Paltiņa has started in U14 age group, who was the first to set off. Stella's first start in U14 was excellent wininng gold in 600m and setting a new PB - 1:51,4! Third place for Roberts Cercins in 600m also in the U14 age group. However gold in the U16 age group went to Ričards Špacs, but Elza Niklase finished second with a new PB in 800m. An excellent start of the season. Manege workouts start just next week, which will give even more added value. Photos - here!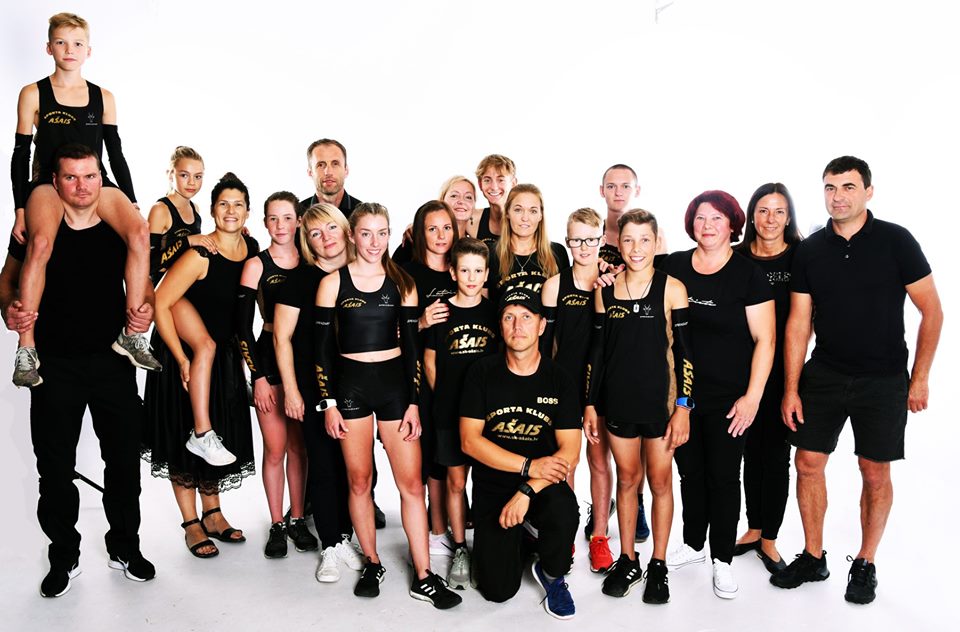 2019. /2020. season is the 12th season of SC Ašais! What is sports club AŠAIS? It is one big sports family with many different personalities, but it is believed to have one big collective and personal goal - to be better both in sport and in life. And the pursuit of the great goals is one that brings us together everyday - in training sessions, races, jokes, laughs and all the good things that happen to us!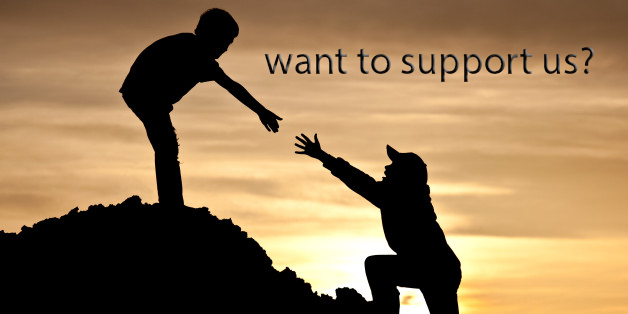 Medals' counter:
| | | |
| --- | --- | --- |
| | | |
| | 2020 | |
| 3 | 0 | 8 |
| Total 2020 | 11 | medals |
| Freshest Gold | Freshest Silver | Freshest Bronze |
| | | |
| | 2019 | |
| 61 | 30 | 28 |
| Total | 119 (record!) | medals |
| | 2018 | |
| 48 | 32 | 23 |
| Total | 103 | medals |
| | 2017 | |
| 44 | 44 | 22 |
| Total | 110 | medals |
| 600 medal | Roberts Glazers | |
| 700 medal | Renāte Beļājeva | |
| 800 medal | Roberts Glazers | |
Medaļu statistika kopš 2010. gada