Roberts Glazers second in Riga marathon 10km distance!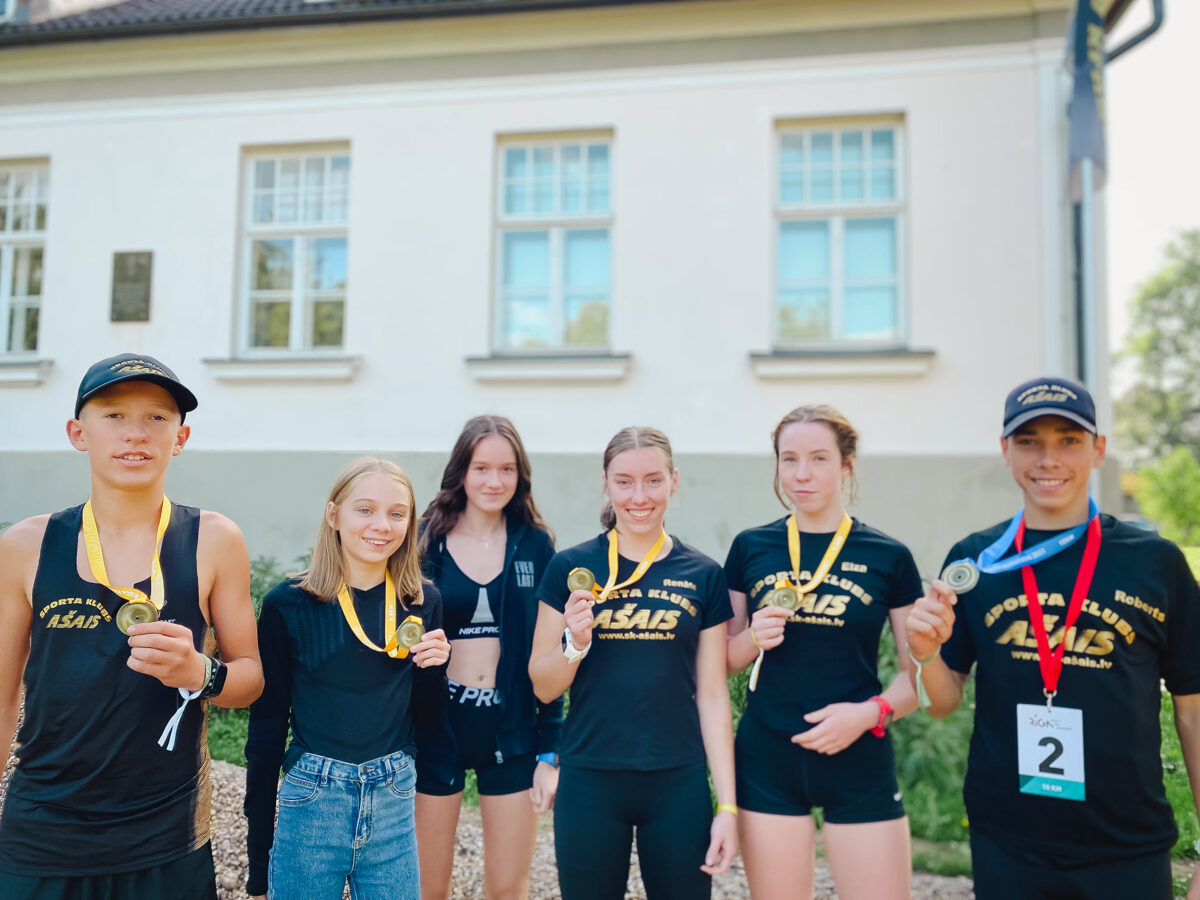 And here it is! Roberts' first medal in Riga marathon! For the first time doing the 10km highway run Roberts gets 2nd place and a new club records - 33:45! It had been a dream for Roberts to step on the pedestal since childhood, however the organizers had other ideas and sent the awards afterwards. Other Ašais runners did the 5,5km distance. Teodors Godiņš finishes as the olympic 6th in men's competition. Among the ladies competition 4th and 6th place for Elza Niklase and Renāte Beļājeva respectively! Photos - here!

Ašais runs Stirnu Buks with "holiday legs"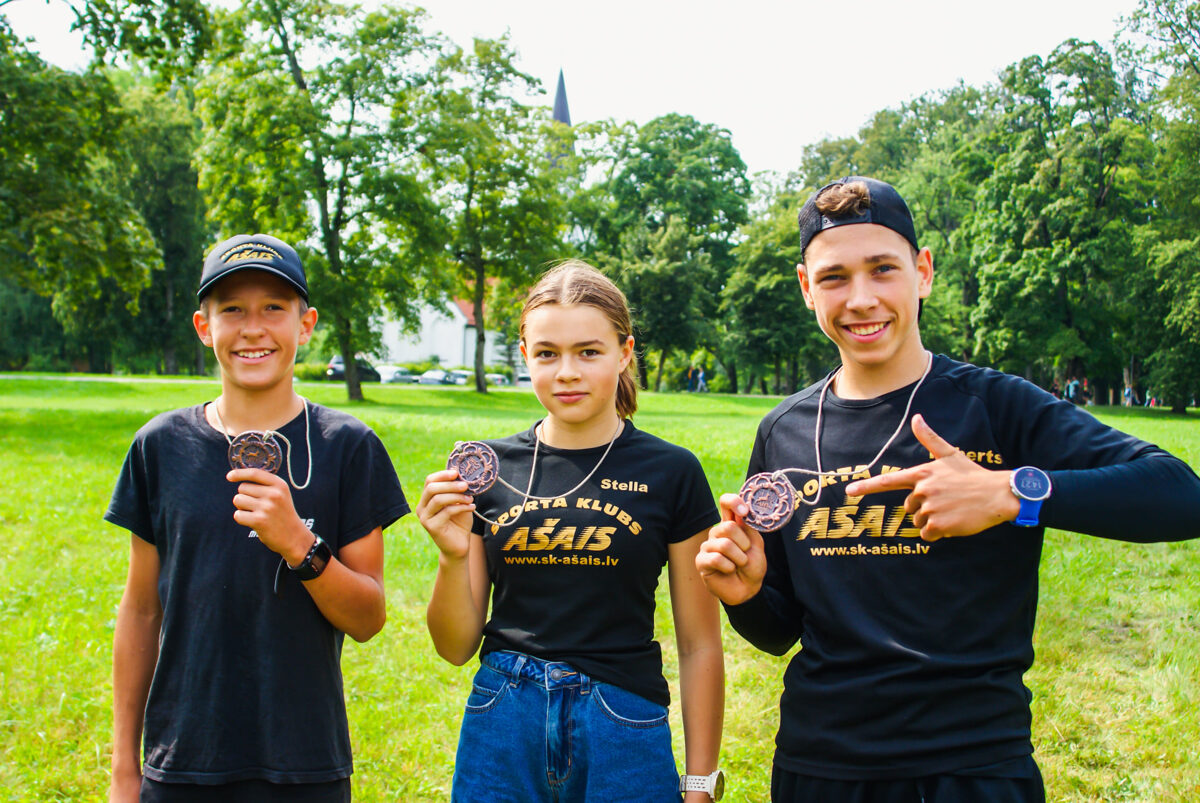 In an absolute mini pack of the team Ašais runners compete in this years first Stirnu Buks, which occured in Sigulda. Roberts Glazers, Teodors Godiņš and Stella Paltiņa competed in the school championship distance to understand what can the relaxed holiday legs do. Despite the holidays after the long athletics season, Roberts celebrated his unmistakable victory in the squirrel distance and in the school championship to boot. This was Roberts' 16th victory in Stirnu Buks competitions. Stella Paltiņa 4th in her age group and Teodors - 5th. A bitter suprise happened when the awarding ceremony was hosted 40 min earlier than scheduled. Just sad... Photos -
here!

Anatomy of season 2021
Thank God, season of 2021 was not ruined by Covid-19. Therefore SC Ašais had a fulfilling summer! And what a season it was! Let's take a look!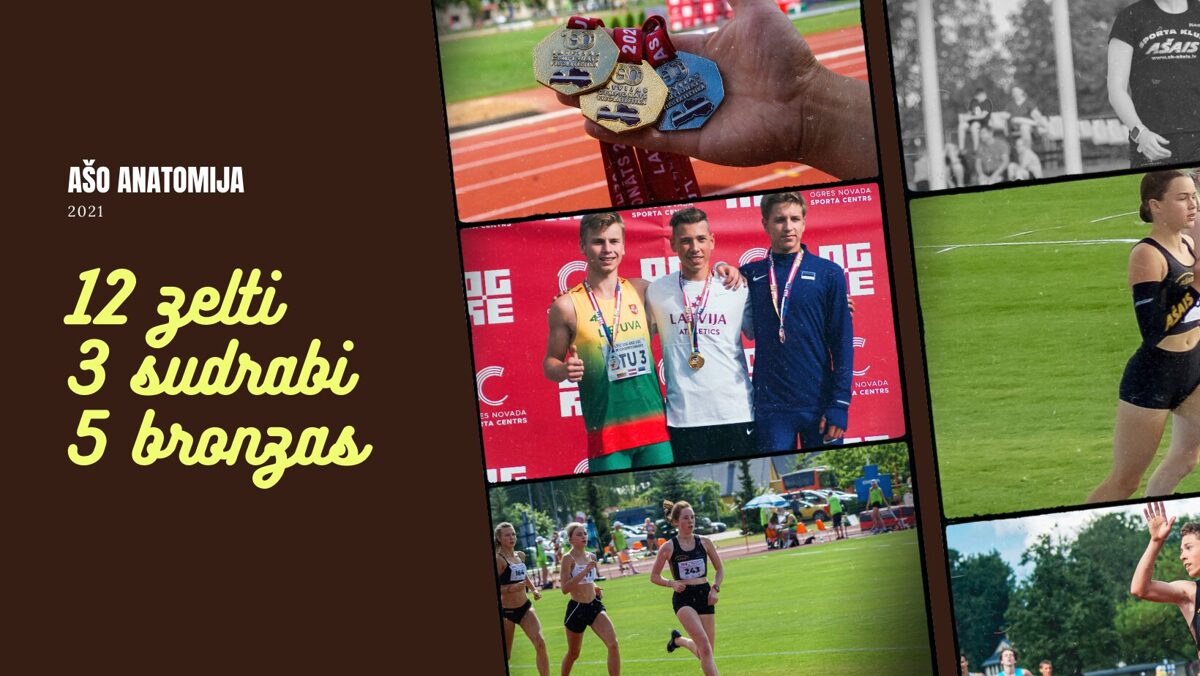 An excellent season experienced Roberts Glazers with 9 pedestals in his account, from which 8 were the highest step of a pedestal and one was the 3rd step. Roberts got two confident victories in both middle distances (800/1500m) in the U18 Latvian championship, a victory in the Baltic U18 championship in the 1500m distance and two victories in Finland including a first time record and a club record in the 3000m distance. Furthermore a 3rd place in 800m in the historical Ullevi stadium located in Gothenburg! That way Roberts concludes U18 age group with an indisputable season leader status in the 800m, 1500m and also 3000m distance. In the Baltics Roberts is the season leader in the 1500m and the 3000m! Excellent!
Continuing further, Elza Niklase also had a fulfilling first season in the U18 age group with two victories, two 2nd places and a 3rd place this summer! Also including a 3rd place in the Latvian championship for adults in the 1500m and also a 2nd place for the 3000m distance in the U18 Latvian championship! Just as much joy for U14 Stella Paltiņa who managed to get bronze in the 1000m. Unfortunately due to the virus, Teodors Godiņš had to pass the Latvian championship, however his seasons' results suggested a place on the pedestal was possible.
The other youngsters of SC Ašais are continuing to get acquainted with athletics and who will most likely experience their own pedestals next season.
And now time for a little rest before the preperations begin for the fall/winter season!
Champions of Zvārtes iezis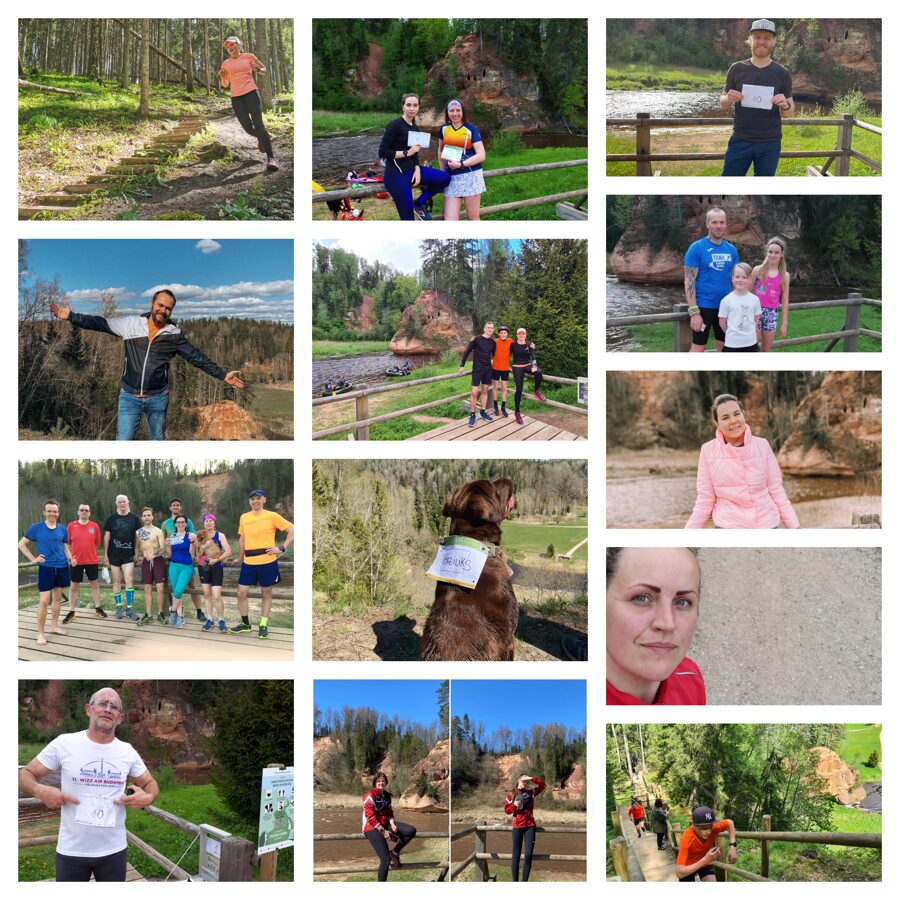 May has passed and here is the outcome of SC Ašais part of Zvārtes iezis championship. On the Strava webpage we see the following statistics. Among men this is the TOP 3: 1st place Raitis Jirgensons (4:55), 2nd place Andžejs Stepančuks (5:14), 3rd place Nauris Spalviņš (5:15). Among women the TOP 3 are these three young ladies: 1st place Estere Volfa (5:26), 2nd place Marta Luize Petersone (5:46), 3rd place Daido Dagne Brūvere (6:48). Hence the main prize - 1kg of excellent coffee means from "Melnais Gulbis" - was awared to Raitis Jirgensons and Estere Volfa, however all TOP 3 runners got a special prize from SC Ašais. Thank you for all the paricipation and good words!

Ašais athletes rewrite the history of the Saaremaa race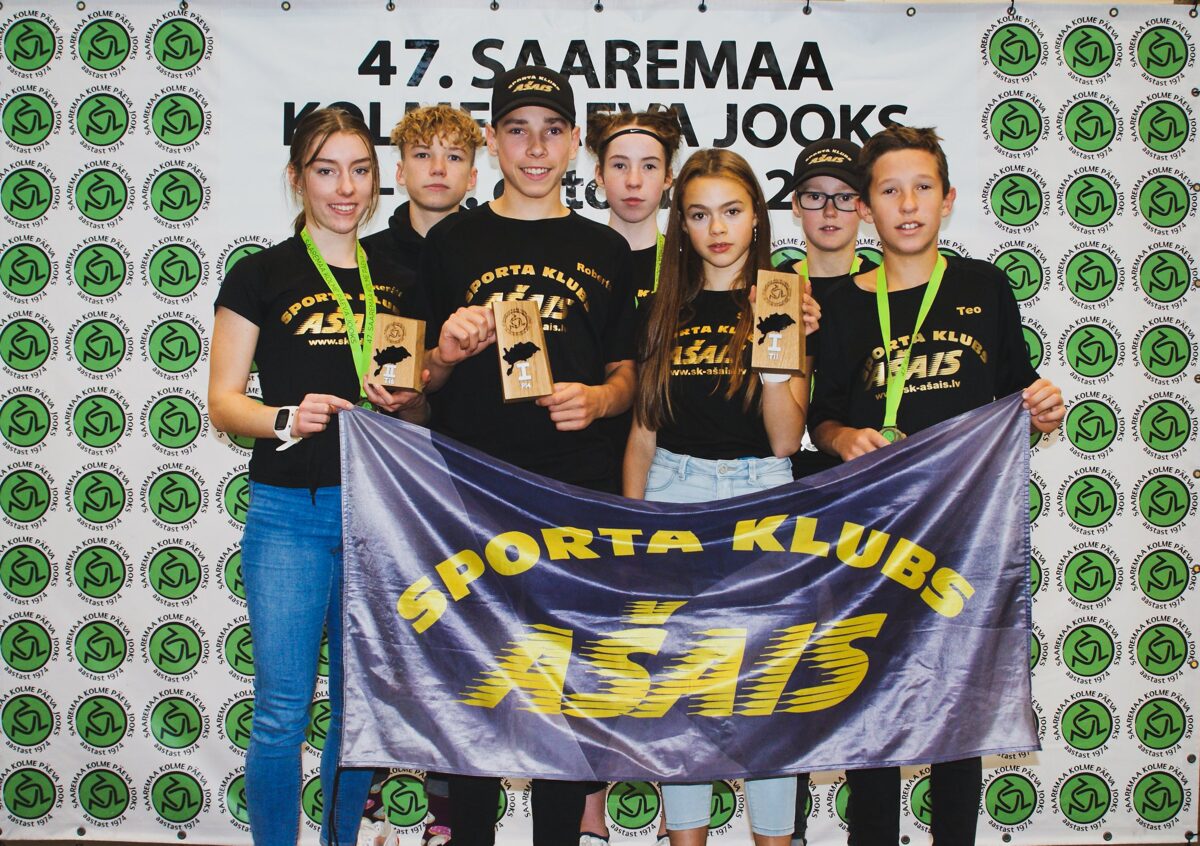 In the three intense race days spent with 200 more estonian athletes, Ašais athletes to do historical feat, thereby rewriting the history of the event. Firstly, it was the unbelievable run for Roberts Glazers. The Aim for Roberts was to correct the 11 year old record in the P14 age group. Before the race it was clear, that it will be no easy feat, because the bar was set very high. We are truly happy to announce that the summative result Roberts presented within the three race days, was not only a new record in P14 age group, but also the all time fastest result in this distance. This had been the 21st youth race. Thus Roberts has reached a new height. He now holds the record for youth distance in P6/P11/P14 age groups! Not only that, but he is also faster than the record of P16 age group! Next year Roberts will be in P16. His result in each race day - 2km=6:07/ 3,24km=10:11/ 3,2km=10:07!!! On top of all this, the total time among all three days is 26:26... Roberts birthday is on the 26th date. Another beautiful performance demonstrated Stella Paltiņa. Her pace had been so great, that she can now claim two titles - All time fastest time in T11 age group and the unofficial Queen title also in the T14 age group!!!! If last year Stella didn't have the power to last all three race days, then now her rivals stand no chance!
Masterclass with Cesis running ensemble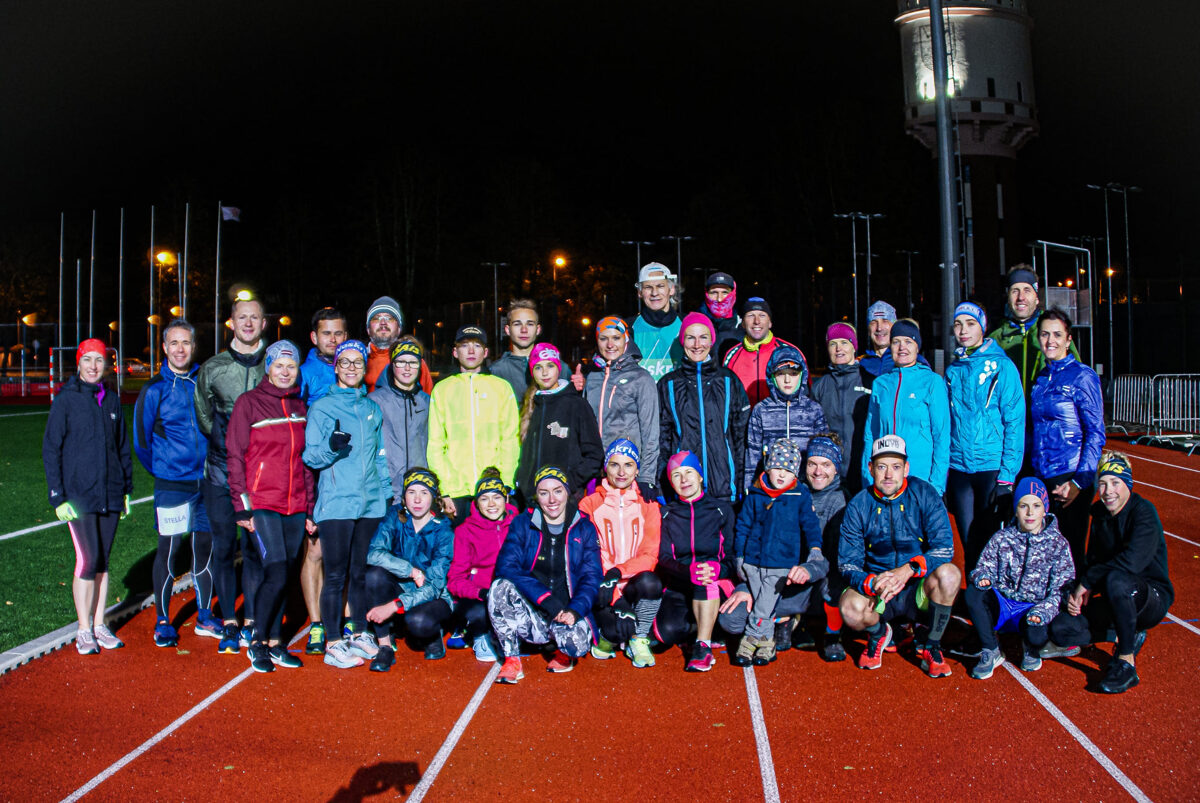 Without a doubt it is clear, that motion is life. Beautiful motion is the highest aesthetic, which God has created. On thursdays' evening, SC Ašais met with running enthusiasts in the Cesis stadium to give an insight to fast running. Evening activities began with special excersises and cocluded with swedish relays. We are happy that TRX Cesis group joined the #NoskrienCēsis family. Double happiness, because the bad weather didn't discourage the motion lovers!
Once again SC Ašais celebrates fall with "Smiltenes laps"!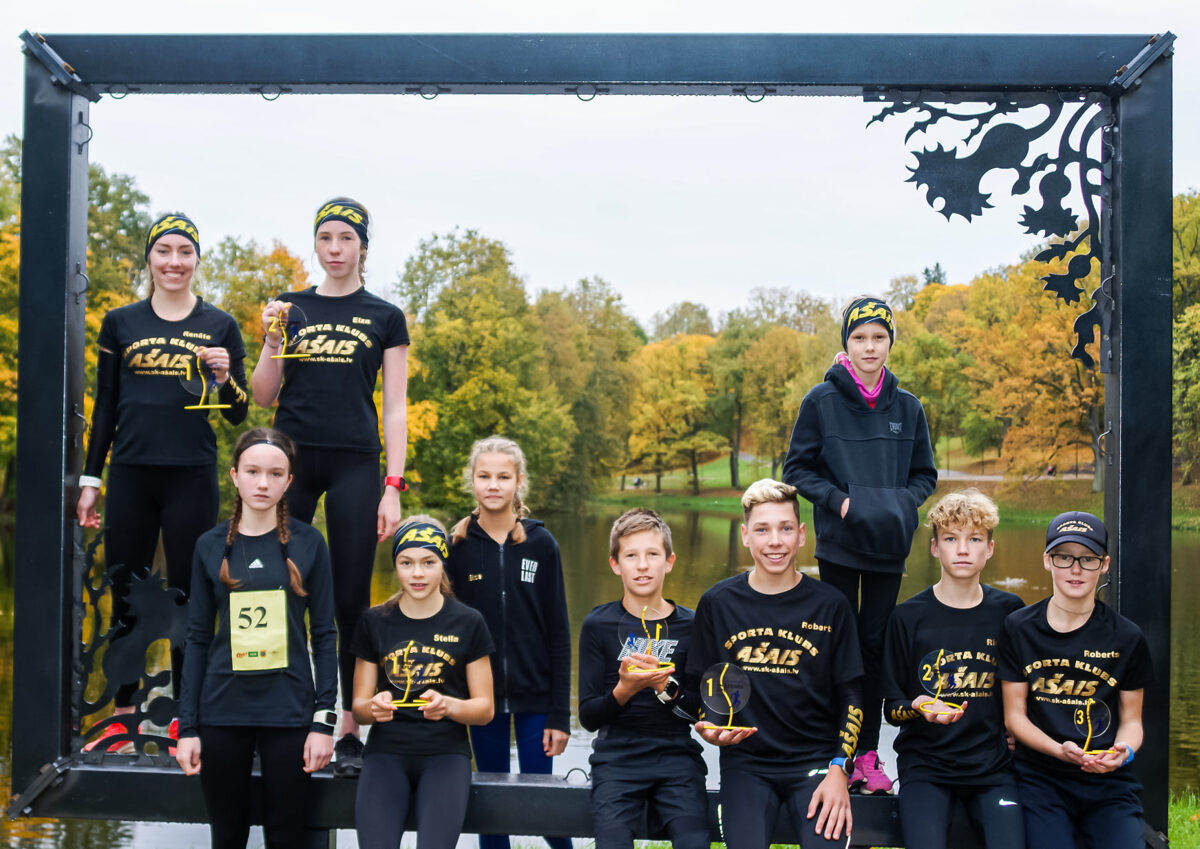 SC Ašais have been competing in "Smiltenes laps" for many years now, and fall wouldn't be imaginable without this established race. This year, racing passed with flying colours! Roberts Glazers had an excellent start in the 2 lap race, with an absolute victory and the fastest time of this distance in the history of the competition!!! The 6,5 km were done with an astounding result of 23:13! Average pace 3:35/km! Ašais runners secured 3 more victories in the 1 lap race. Stella Paltiņa dominated her age group with the fastest result from ALL girls! Likewise victorious were Renāte Beļājeva and Teodors Godiņš! Furthermore, Teodors had his first pedestal as an Ašais athlete. Congratulations! Second in their age groups were Ričards Špacs and Elza Niklase, third in his age group was Roberts Cercins. Teams' youngest, Annija Cercina, ended up 4th in her age group, but Luīze Rajecka and Egija Mihailova 5th and 6th respectively! Thanks you Smiltene! We will return! Photos - here!
Ašais demonstrate how it is done in Fall cross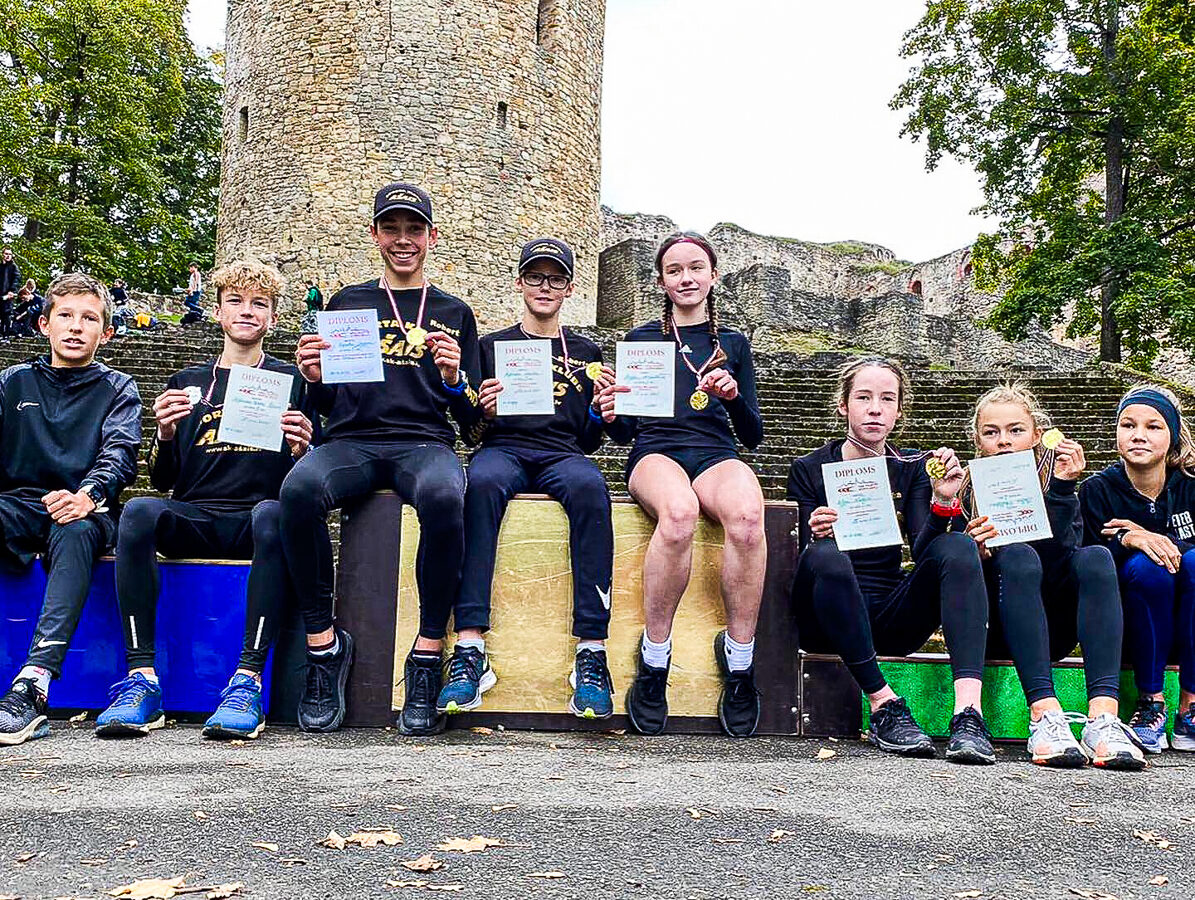 Thank God - Fall cross was able to happen! Thus Ašais runners too took a part in Cesis region fall cross. Furthermore, the track was selected by our own coach! SC Ašais athletes most definitely demonstrated the beauty of athletics by winning 6 medals, 5 of them being absolute victories! First to set off was Stella Paltiņa with an excellent performance! Stella not only had the quickest stride in her own age group and primary school group, but also in highschool group of the 1km distance! Thus Stella had the quickest stride from all girls!

SC Ašais strike lightning in Milzkalnes Stirnu Buks!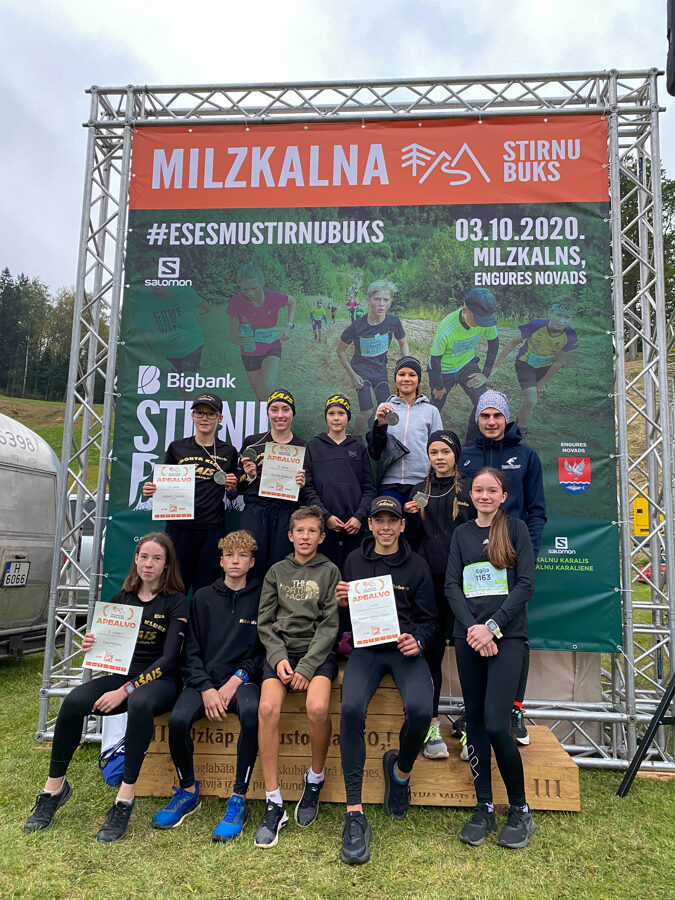 The most compelling start in the school championship came about to none other than Roberts Glazers, who managed to outrun his strongest opponent Lauris Grīniņš, therefore winning 3rd stage both in his age group and overall! Furthermore, Roberts had the fastest time from all "squirrel" distance runners! Which means that Roberts will have to run full force in the last stage in order to be the absolute winner overall. Overall and in U14 age group among girls, Stella Paltiņa 2nd, who managed to outrun, till now undefeated, estere Volfa!
Stella Paltiņa wins gold in U14 Latvian championship in cross!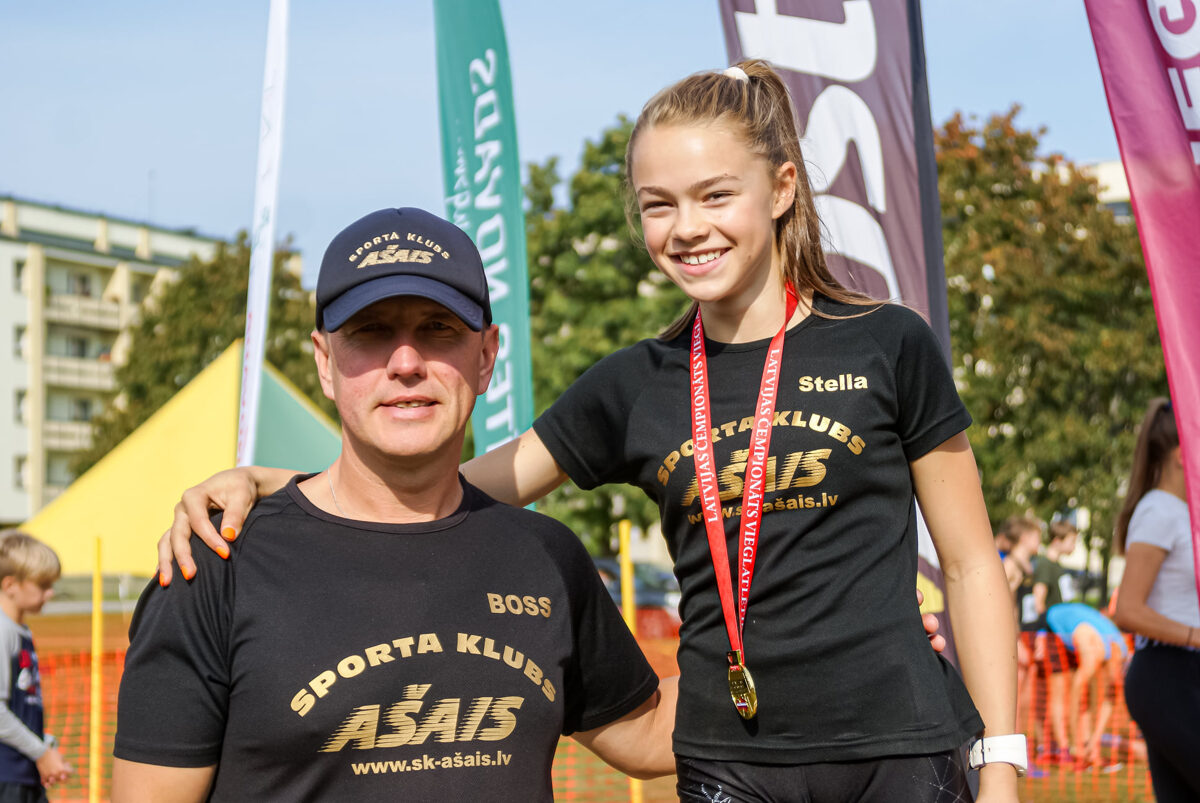 Fall in the calendar of SC Ašais continues with the Latvian championship in cross. In spite of C-19, many running lovers had come to this event. Each age group had its strongest athletes participating. That made the whole event much more intriguing. We are pleased to announce, that in U14 age group with a tough battle, with an excellent dash to the finish line, Stella Paltiņa got gold! Thus Stella has concluded her first year in the U14 group with a rating of brilliant. Stella got bronze in winter and now two gold medals - 1000m(track and field) and cross! A dramatic fight for Roberts concluded with 4th place in U18 age group. Bronze in the 5km cross was only 4 seconds away, however, being the youngest in this group, the result was very good. Age group was mega tough. In girl U16 group Elza Niklase was 7th. Unfortunately, Renāte Beļājeva cocludes her season 10th. Photos - here!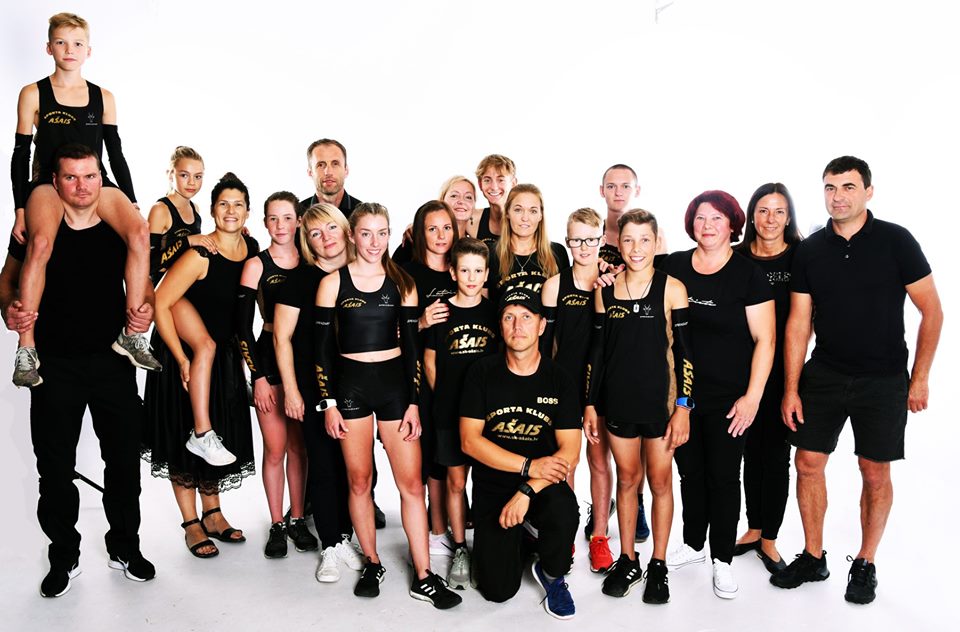 2020. /2021. season is the 13th season of SC Ašais! What is sports club AŠAIS? It is one big sports family with many different personalities, but it is believed to have one big collective and personal goal - to be better both in sport and in life. And the pursuit of the great goals is one that brings us together everyday - in training sessions, races, jokes, laughs and all the good things that happen to us!
Sports club AŠAIS official anthem:


Medal counter:
| | | |
| --- | --- | --- |
| | | |
| 17 | 8 | 5 |
| In total | 30 | medal(s) |
| Won the freshest gold | Won the freshest silver | Won the freshest bronze |
| | 2020 | |
| 27 | 27 | 21 |
| In total | 75 | medals |
| | | |
| | 2019 | |
| 61 | 30 | 28 |
| In total | 119 (record!) | medals |
| | 2018 | |
| 48 | 32 | 23 |
| In total | 103 | medals |
| | 2017 | |
| 44 | 44 | 22 |
| In total | 110 | medals |
| 600th medal | Roberts Glazers | 2017 |
| 700th medal | Renāte Beļājeva | 2018 |
| 800th medal | Roberts Glazers | 2019 |
| 900th medal | Roberts Glazers | 2020 |

To 1000th medal = 19
medals!
Our medal statistics since 2010