Roberts Glazers 3rd in Baltic Sea Games!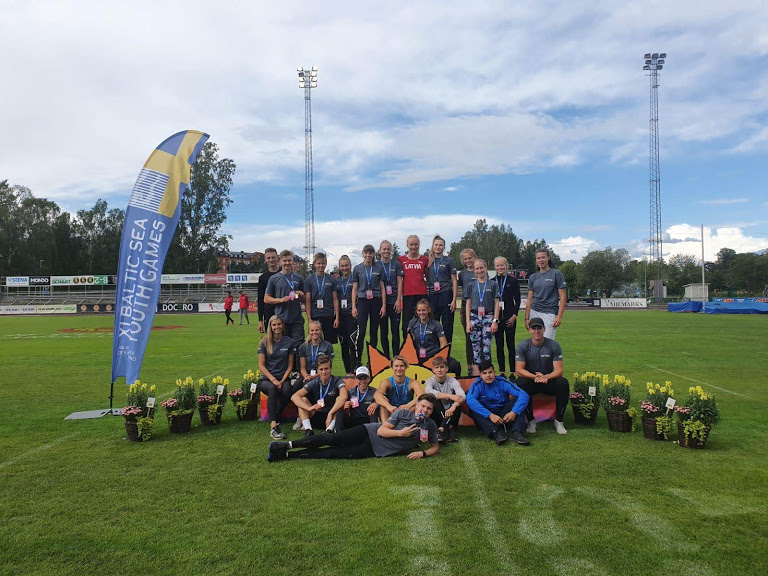 While Ašais athletes are testing their limits in Alūksne, Ašais hiperactive bomb Roberts Glazers is spending his time in the Swedish city of Karlstad to participate in Baltic Sea Games. Roberts started in the rather unusual distance of 2000m. He started promisingly, winning 3rd place with a pre-record - 6:16,32! We are happy for Roberts' first international start being a member of the Latvian team. We are certain, that just now everything is starting! Awaiting new challanges!
Another Stirnu buks race in our pocket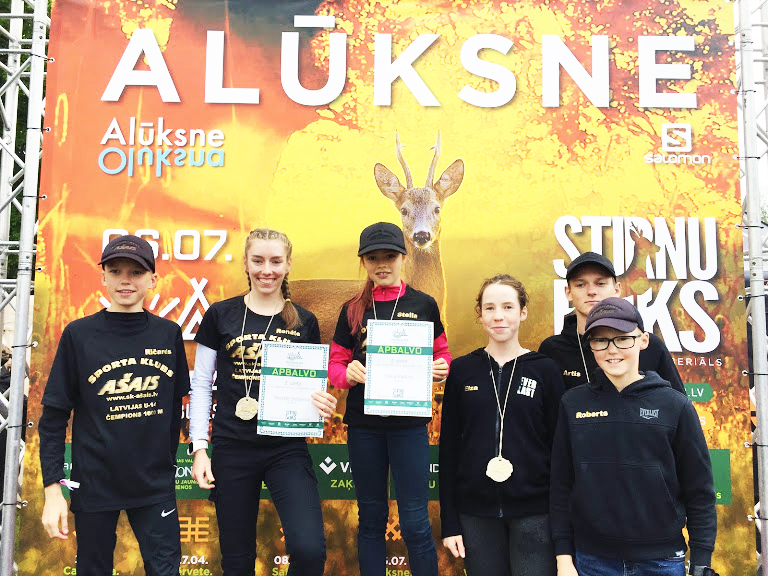 In the athletic spirits this summer season, Ašais athletes once again participate in Stirnu buks. This time in the beautiful Pilssala of Alūksne, though unable to fully enjoy the race, due to the bad weather. Alūksne stayed unexplored. Unfortunately another mishap occured to Artis Rožkalns - to fast of a pace for the few indications in the track. Lack of indications led Artis from the track costing him the result. Roberts Glazers, who at the time was in the Baltic Sea sports games, let his Latvian peers get the pedestal much easier. all in all, Ašais runners participated honorably, winning 3x bronze medals and the fastest team status. Been and will be better. We will be back for gold! Third place for Renāte Beļājeva in U16 age group, Stella Paltiņa in U12 and the flying Dutchman - Artis Rožkalns.
Ričards Špacs - Latvian U14 vicechampion 1000m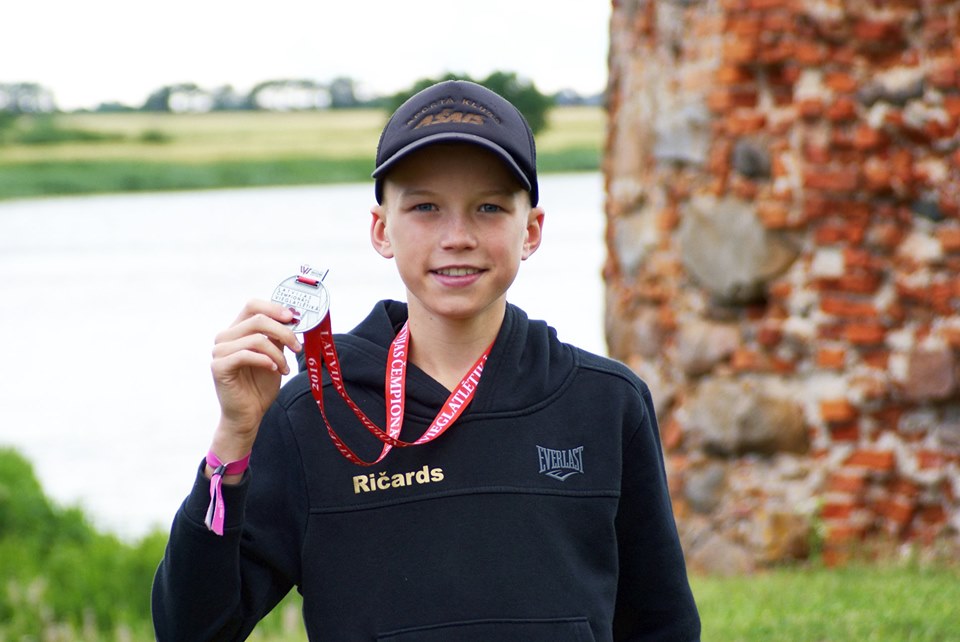 With the start of Ričards Špacs in Latvian U14 age group championship summer season continues in the athletics tracks. Continuing with a blast! As usual, in U14 age group there are many participants. As well in the 1000m distance 27 young runners step on the start line, including our only U14 athlete. Competition was fierce! No joke, because 6 similar level runners were all aiming for the pedestal. Even with the imense nerve-wrecking tension, Ričards fought like an animal, winning a silver medal in the U14 Latvian championship and setting a new PB - 3:05,58. Thus finishing U14 age group excellently - gold medal indoors and silver in stadium. Next year awaits new expiriences! Photos - here!
Renāte Beļājeva wins silver in Latvian championships' 800m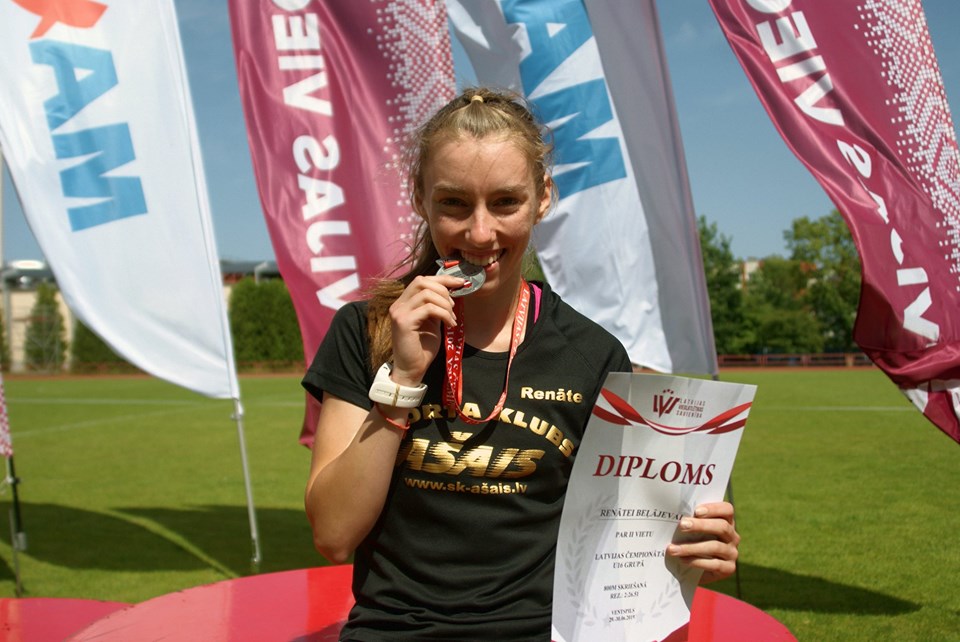 Two stormy days, both literally and figuratively have endured 3 Ašais U16 age group athletes. First race day in Ventspils olimpic center stadium was very windy. On the start line first set foot Elza Niklase in the 1500m distance. Have to mention that this was her first start in this distance. Finished in honor. In her first Latvian champioship Elza was in 8th place, leaving a considerable reserve for improving her result. Second to set off was Roberts Glazers. The statistical place beforehand let us hope for a medal, however the God of sports had a different idea - Roberts 5th in 1000m.
Rihards Serģis bakes Ašais Finland movie
Kārlis Dieviņš runs at bronze speed in Sportland's cup 400m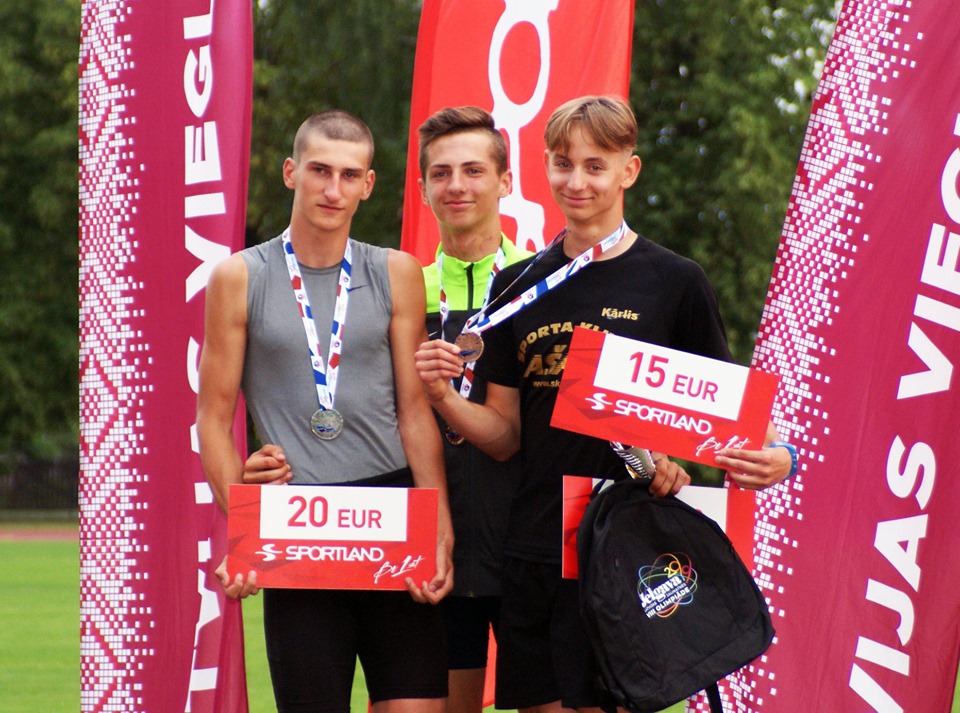 With the III part of Sportlands cup, which took place in Zemgales olimpic center, in Jelgava, Ašais oldest runners continue season'2019! This time on the start line of the 400m long sprint set foot on Artis Rožkalns in the mens' competition and Kārlis Dieviņš in the U18 age group competition. Powerfully ran Kārlis Dieviņš getting bronze medal and setting a new PB, removing second and a half from his previous PB. Kārlis' result - 54,48. Artis Rožkalns with a result of 52,77 finished in 5th place in mens' competition. Unfortunately, Artis for now can't get in his best form, but there's time till Latvian championship to save what still is to save. Now we wait for the weekend when U16 age group Ašais runners compete in Latvian championship.
First Latvian championship of 2019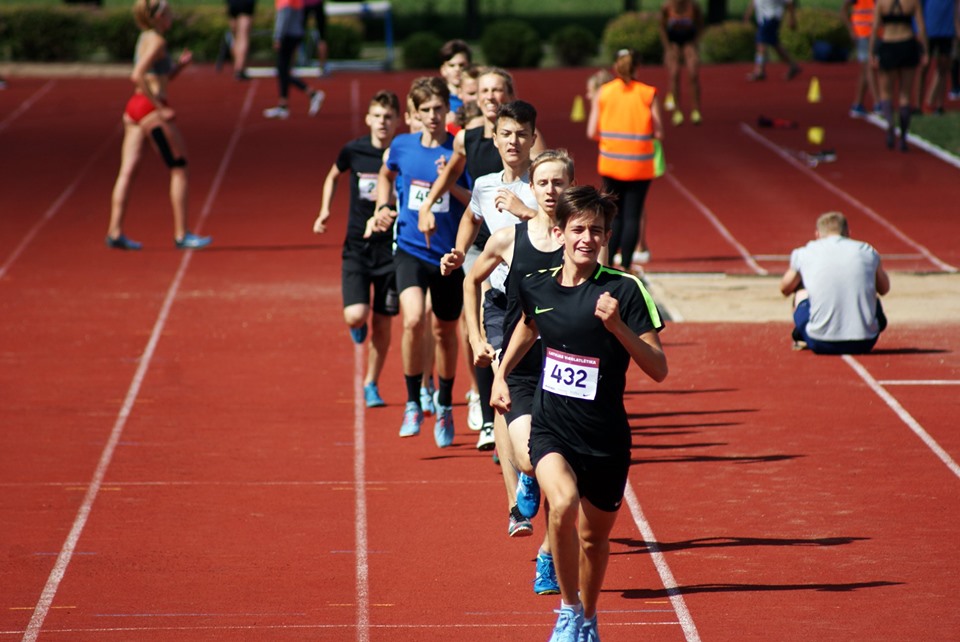 In the city of Jēkabpils on June 22nd occured Latvian championship for U18 and U20 athletes, with one Ašais athlete in each age group. After skipping previous season due to an injury, Kārlis Dieviņš(U18) is back on track. He's achieved yet another PB taking off a second to his previous record, though only 12th among his peers(of 23). The most important thing is that progress in undeniable. That is motivating. Unfortunately, not such a great race for Artis Rožkalns(U20). Experimenting with the training programme has not resulted the way we hoped, because this season Artis has not managed to get even close to his PB that was set last season. This time 5th place (of 10 athletes). However, in latvian there is a saying - NEKAD NEPADODIES! Next week U16 Ašais athletes will set their feet on the start line in various distances. Photos - here!

Finland adventure - GOLD, BRONZE & 5xPB!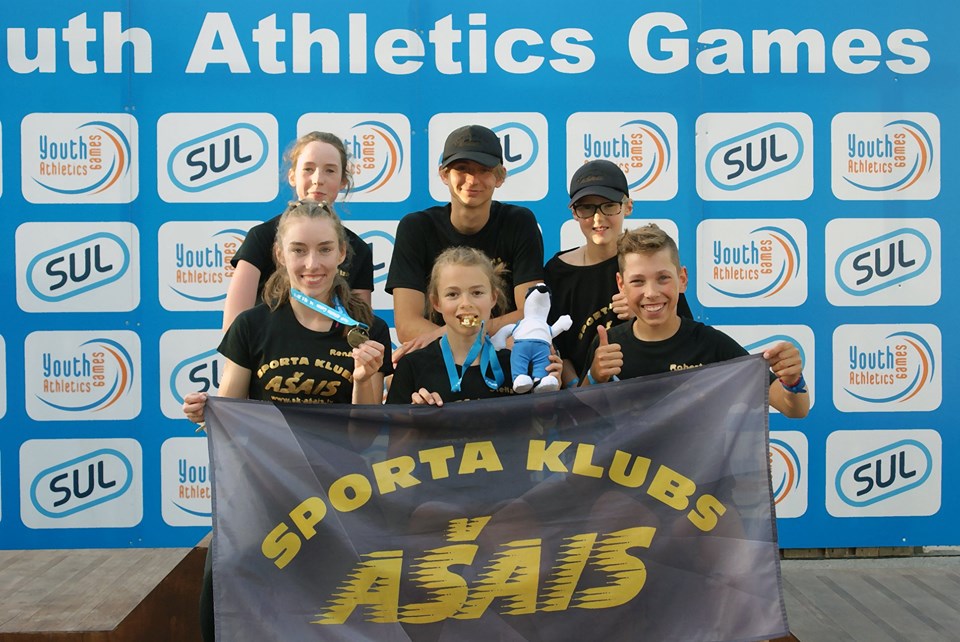 An excellent adevnture once again. In the exact middle of June Ašais athletes went on a journey to Finland - the land of a thousand lakes - to participate in a huge athletics competition "YOUTH ATHLETICS GAMES" in the town of Lahti. On the first race day (actually the second) two of our athletes set off in the sprint distances, but Kārlis Dieviņš started in his first international 800m competition. If Renāte Beļājeva and Stella Paltiņā blazed across the track sprinting without high ambitions, then Kārlis Dieviņš managed to set a new PB in 800m (2:09;19) and be 11th of the 22 participants.